.
Facciate: Architectural Overlays in Italy
Photographs by James B. Abbott and Blaise Tobia
September - October 2022: Cherry Street Pier (Second Floor Exhibition Space)
In association with Photo 20/20 and Design Philadelphia

Facades along the Corso Vittorio Emanuele, Rome © James C. Abbott 2021

Milan Cathedral © Blaise Tobia 2012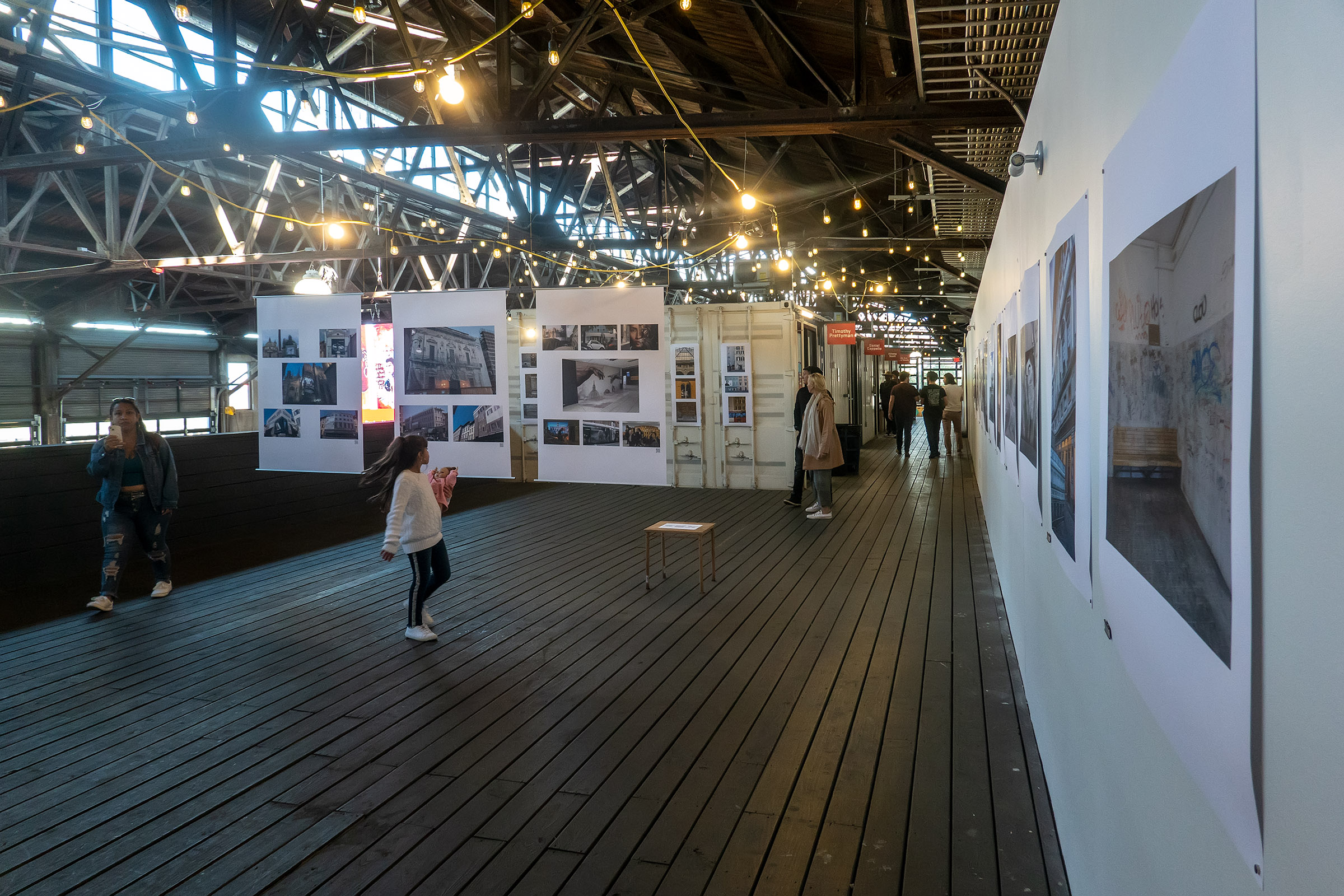 Installation View
. . . . .
James Abbott and Blaise Tobia both photograph extensively in Italy, concentrating on aspects of Italian material culture.
Recently, Abbott has extensively documented the elaborate scrims that are erected around construction sites in many Italian cities.
They hide the scaffolding, substituting full-scale views (often idealized) of what the building will look like after restoration is complete.
They vary in style from highly photographic to schematic or even sketched. Often, they incorporate advertising.
When the scrim images are photographic with a high degree of textural illusion they can play perceptual tricks
on the viewer, creating visual conundrums that require careful decoding.
Tobia, as well, has photographed these construction scrims, but his take on "overlays" extends to the graffiti and street art that cover many
buildings in Italian cities, even in the most upscale quarters. In some cases, graffiti can be so extensive and continuous as to become
a patterned "skin" on a building or train car. He sees an essential difference between "graffiti" (mostly spary-painted tags and elaborations
on words or phrases) which he regards as defacement and "street art" (often done via stencils or appliques, sometimes political
and very often quite inventive and witty) which he regards as a rich contribution to street-level culture.
Photo 20/20 Satellite Exhibitions • Design Philadelphia Programs
James Abbott: jbabbott.com • Blaise Tobia: tandm.us