.
Blaise Tobia and Virginia Maksymowicz have been working as an artistic team for 45 years, supporting
each other in their independent practices. They collaborate frequently on written and curatorial projects
and have also produced collaborative visual works.
Having met as undergraduates at Brooklyn College of the City University of New York,
the two went on to graduate study at U.C. San Diego, receiving their MFA degrees in 1977.
During that time, they worked with David and Eleanor Antin, Fred Lonidier, Harold Cohen and Allan Kaprow.
They also studied with Newton and Helen Harrison, becoming their studio assistants, eventually supervising
the creation of the Lagoon Cycle portfolio, and helping with exhibition installations at Ronald Feldman gallery.
T&M learned from the Harrisons how members of an artist couple could be both critical and supportive.
After returning to NYC, T&M were both part of the Cultural Council Foundation's CETA Artist Project,
sharing a studio in TriBeCa. Over the years, they became involved with the Foundation for the Community of Artists,
writing, editing and photographing for its publication, Art & Artists. They collaborated on projects
as part of Art Against Apartheid, PAD/D and a variety of other politically oriented artists groups.
T&M have shared visiting artist residencies at the Vermont Studio Center and the American Academy in Rome.
They have co-presented at conferences at the Glasgow School of Art and the College Art Association
and at other professional meetings.
From 2014 through 2016, they co-directed TandM Arts: Studio, an alternative exhibition space in Philadelphia.
As of 2020, the TandM Arts working studios hav e moved to the Green Line Workspace at 4318 Lancaster Avenue in West Philadelphia.
Studio visits may be arranged by appointment.
As part of the exhibition "Couples" at the Islip Art Museum in 2008, T&M responded to questions about the
nature of their collaborative process. An updated version of the interview can be read here.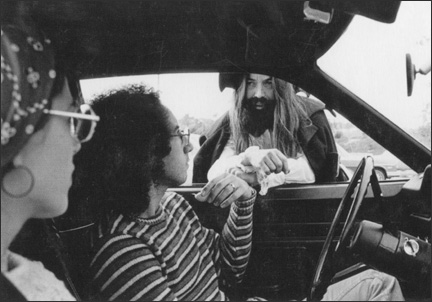 Virginia Maksymowicz, Blaise Tobia and Eleanor Antin, 1975
photographed by Phel Steinmetz as part of Antin's performance "The King of Solana Beach"
previous page credits:
photo by Lisa Kahane
TandM logo by John Langdon