.
The 1975 photo exhibition "New Topograhics: Photographs of a Man-Altered Landscape" at George Eastman House was highly influential and changed the way a generation of
photographic artists approached landscape photography. Among its featured artists were Robert Adams, Lewis Baltz, Frank Goehlke and Stephen Shore, who decisively replaced
the traditional sentimentality of landscape with an often brutal criticality, especially in the face of banal human interventions and degradations of the natural environment.
Massimo Cristaldi, Sandro Scalia and Blaise Tobia bring a similar critical eye to their documentation of the Sicilian landscape - especially that of the new suburbs of the major cities.
This is a Sicily very different from that of the tourism industry.
(c) Sandro Scalia - from the series Città in Estensione
Sandro Scalia was born - and continues to reside - in Palermo. He studied photography in Milan, Catania and Palermo. His professional photography focuses
on architecture. landscape and cultural patrimony. Since 1997 he has been Professor of Photography at the Academy of Fine Arts of Palermo;
he also teaches in the School of Architecture of the University of Palermo. His works are included in significant private and public collections
and he has shown throughout Italy, in Germany, and in the U.S.
. . .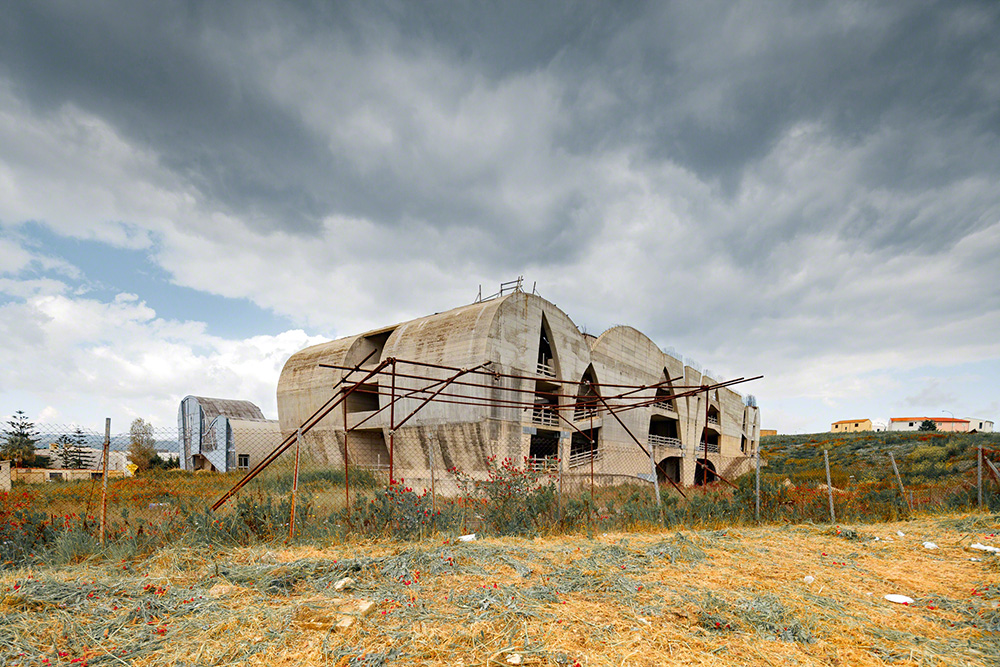 (c) Massimo Cristaldi - from the series Suspended
Massimo Cristaldi was born in Catania and continues to reside there, as well as in Rome. He has received an International Photography award,
a Sony World Photography award and a Travel Photographers of the Year award. He has shown in Europe, the U.S., Canada and Brazil in solo and group shows
and at photography festivals. He is represented by galleries in Belgium, the U.S. and Italy. Massimo's photographs are part of the permanent collection
of the George Eastman House, International Museum of Photography and Film (which organized "New Topographics" in 1975).
. . .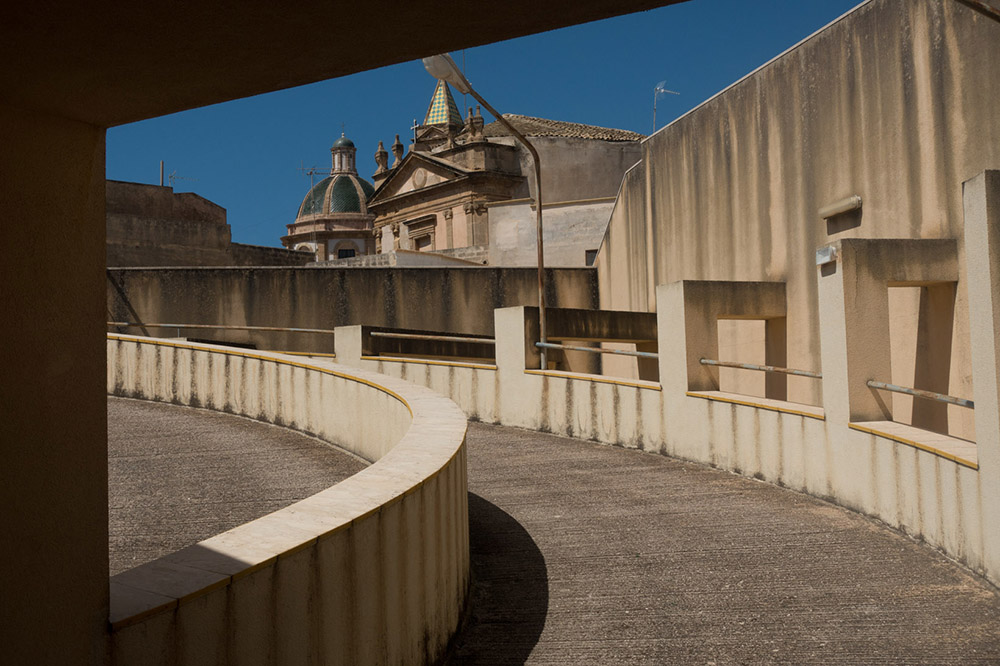 (c) Blaise Tobia - Parking Garage, Mazzara Del Vallo
Blaise Tobia's connection to Sicily is that all four of his grandparents were born in the town of Calatafimi and his father was raised there (although born in the U.S.)
He has travelled to Sicily fifteen times both to visit family and to photograph extensively. His book "Castle of Eufemio" documents the patron saint festival of Calatafimi
as well as the town's unique history as the site of Garibaldi's first battle for Italian unification (1860). He is Professor Emeritus at Drexel University.
He has had recent solo shows in Philadelphia, New York, Sacramento, Raleigh, Washington DC, and Rome.
. . .